Do I Need a Lawyer?
In some circumstances where there is no real dispute as to who was at fault, your damages are small, and your recovery complete, you may be able to settle your claim on your own. For your own peace of mind, the free initial consultation that a lawyer is willing to provide can be a great resource for you in determining if this is the best course for you to take.
Do I Have a Time Limit to File a Lawsuit?
In West Virginia, you have up to two years to file a lawsuit for a personal injury or a motor vehicle accident. Just keep in mind that you will have trouble finding representation for a "stale" claim.
Can I Represent Myself?
There is a common saying in the practice of law, "Don't hire yourself to act as your own lawyer." The reason for this is that the client lacks objectivity. Objectivity means that you can analyze the law correctly and evaluate the facts of the case in a neutral way. That way you are not overlooking a key weakness in your case.
I have known many people who represented themselves, and even filed their own lawsuits, but in the end finally come around to the obvious need to have a professional oversee and handle their legal matters. If you had a common cold, you would likely go to the local grocery store and buy some cold medicine. But if you had a severe laceration on the leg, you wouldn't likely stitch your leg. Many people try to represent themselves because they think it will be like treating a common cold. By the time they realize that a professional is needed, a lot of damage to their claim has already occurred.
In some circumstances where there is no real dispute as to who was at fault, your damages are small, and your recovery complete, you may be able to settle your claim on your own. The free initial consultation that personal injury lawyers are willing to provide can be a great resource for you in determining if this is the best course for you to take.
The insurance company has lawyers to represent their interests, shouldn't you?
All the Ads Look Alike. How Can I Recognize a Good Lawyer?
Ask: is the lawyer a general practitioner who does "a little of this and a little of that" or a full-time personal injury practitioner? Just as you would seek a specialist for your medical condition, you need to seek a skilled lawyer for your legal needs. Check Avvo.com for lawyer rankings on a scale from 1 to 10. What is this lawyer's record of success in complex personal injury claims?
You and your familydeserve an experienced lawyer whopersonallyhas had decades of real legal experience to handle your claim, not some rookie who is trying to learn the ropes of litigation at your expense.
Tolearn more, click here to visit our article:How to Choose a West Virginia PersonalInjury Lawyer
Should I Sign a Medical Release Form?
You have an obligation to cooperate with your own insurance company, but should not release any information to the opposing company without legal representation. Any information and indications of pre-existing conditions can and will be used against your claim.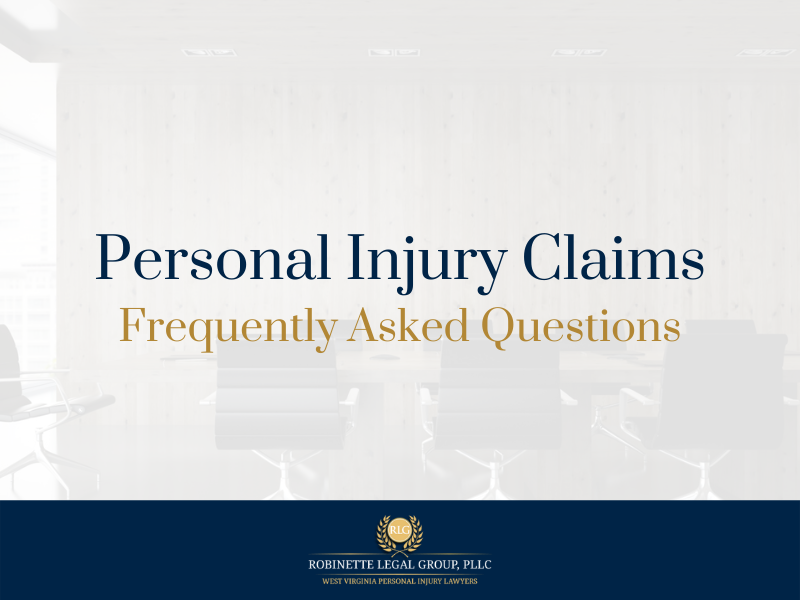 Who Should Pay My Medical Expenses?
In addition to your medical insurance, your automobile insurance may cover a predetermined amount of your medical expenses no matter who was at fault. If another party was responsible for your injuries, their insurance company will eventually have to pay your expenses, but their goal will be to protect themselves by having you sign a Release of Claim quickly before any long-term health effects become evident.
Your lawyer can assist you in making arrangements with your health care providers until your case is settled. You have already suffered – your lawyer can eliminate the additional stress of collections hounding you for payment.
How Much Treatment Should I Seek for My Injury?
After the initial doctor's evaluation, the goal of medical treatment and physical therapy is to restore you as much as possible to your pre-accident condition. Keep in mind, though, that over-treatment will not help your case and could be used against you in court.
Are There Aspects of Settlement That I Might Not Consider?
Unless you are an expert in the areas of subrogation, state and federal reimbursements, and insurance liens, you will likely miss something that will affect your recovery.
Don't All Lawyers Know How to Successfully Represent an Injured Person?
Personal injury law has many complexities and requires an understanding of not only tort and insurance law, but litigation and trial procedures and of how insurance companies operate that a general practitioner may not possess.
Additionally, well-experienced personal injury attorneys understand how particular factors will influence the value of a claim. Comparative negligence issues (who was at fault, and to what degree), punitive damage issues, and pre-existing medical conditions of the claimant will also factor into the value of a claim. A serious personal injury attorney will have access to resources that give them up-to-date information about the claim value of various types of injuries.
One size does not fit all in the practice of law. Just as you would not seek treatment from a family practice physician for a traumatic brain injury, you should be equally careful in hiring a lawyer who has extensive experience representing injured people and working with insurance companies.
Why Should I Hire a Personal Injury Lawyer After Having Been Injured in a Car, Truck, or Workplace Accident?
Some injury claims are so small they may not require legal representation, but my best recommendation as a former insurance defense lawyer is if you have suffered serious injuries from a collision, you need to promptly seek advice from an excellent personal injury lawyer.
An experienced trial lawyer whose focus is auto injury litigation knows how to preserve all your legal rights, not just some of them, against the attempts of the insurance adjuster and their defense attorneys to defeat or minimize your claim.
Chances are this is the first serious accident and recovery you have had to manage, but a lawyer whose focus is auto accident law has handled hundreds of claims for injured people. A skilled advocate will ensure you are not taken advantage of by the complexities of the insurance claim process and will receive the compensation due to you.
Retaining an attorney adds credibility to a client's threat to file suit, to pursue a claim to trial, and to negotiate a larger payment. Thus, a client gains more experience, more knowledge, and more negotiating credibility and power in dealing with the insurance industry.
---
At Robinette Legal Group, we are here to help you make the first steps toward taking back control of your life. Send us a message or call our Morgantown personal injury lawyers at (304) 594-1800 today for a free case evaluation.
Call us today to find out how we can help you.