Why National Board Certification?
In the medical profession, many hospitals forbid doctors to practice without proof of national board certification in their specialty.
Consumers are therefore afforded added confidence that the doctors treating their conditions are well and truly qualified.
Before 1977 no such mechanism existed for lawyers to gain board certification for trials. Potential clients were forced to rely on word of mouth or advertisements when seeking help in situations often as dire as failing health.
The problem was (and remains) that lawyers admitted to their state bar were (and still are) free to accept cases in any area of the law.
As with the medical profession where the body of knowledge is so large that it's impossible for one doctor to remain current in all areas of specialty, the body of law has grown so large and complex that attorneys can no longer be all things to all people.
But unlike the medical profession, the legal profession has been slow to acknowledge publicly what it has known for years: nearly all lawyers specialize but do so without substantiation beyond "reputation" or simply saying it's so.
This is why Attorney Jeff Robinette went the extra mile to study for and obtain the designation of National Board Certification as proof of his superior competency in trial advocacy.
Mr. Robinette wants his clients and future clients to rest assured that he is ready and able to provide top-tier representation for every personal injury case he takes on.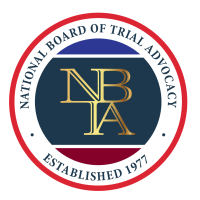 Board Certified Lawyers
Truth in Advertising
Unfortunately, not all who claim expertise possess the experience and competence implied by their declarations or ads.
The National Board of Trial Advocacy was formed in response to this situation and out of a deeply held conviction that the law profession and its clients would benefit from an organization dedicated to establishing objective standards by which to measure experience and expertise.
Becoming Board Certified
That dedication to achieving and maintaining a high standard of practice and to leveling the playing field for clients is shared by those who obtain National Board of Trial Advocacy certification.
Certificate holders undergo a thorough screening of their credentials, including documentation of their experience, judicial and peer references, an exam, and they must report all disciplinary matters brought before any official body, whether public or private, for scrutiny by the NBLSC Standards Committee.
Staying Board Certified
Possessing the NBLSC certificate means that the attorney has been held to a higher standard of professional and personal conduct.
NBLSC lawyers maintain active trial practices and are required to submit a disclosure of misconduct annually and, at the end of each five-year term, prove once again they meet the standards for recertification.
When Hiring an Attorney – Demand Experience
All trial lawyers are not created equal. Don't settle for someone else's word when you require a lawyer's services. Demand an NBLSC board-certified attorney. There is no substitute.
Contact Jeff Robinette, National Board Certified Trial Attorney, Today: (304) 594-1800