An amputation is a loss that affects you physically, emotionally, and financially for the rest of your life. At the personal injury law firm of Robinette Legal Group, PLLC in West Virginia, we understand the challenges you are facing. If your injury was caused by the negligence of another, our lawyers will work hard to ensure you gain the compensation you need and deserve.
West Virginia Amputation and Loss of Limbs injury Lawyers
The loss of a limb or body part is a devastating physical injury that may disable a person for life. There are many kinds of injury accidents that either leads to or contribute to a victim's limb loss.
Amputation is defined as the surgical removal of a body part, such as a limb or appendage. About 1.8 million Americans are estimated to be currently living with amputations.
The most common type of amputation is of the leg, either above or below the knee. Of course, prosthetic devices are available to help amputees regain some mobility and independence. However, these devices are out of reach for many as they tend to be prohibitively expensive and in many instances, not covered by insurance.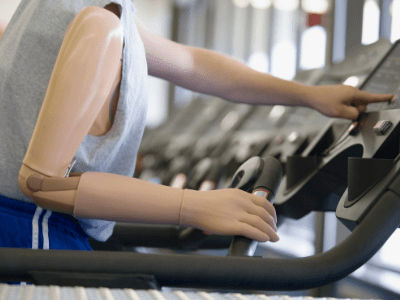 A loss of a limb is definitely catastrophic for the victim, who must now adapt and learn to live and function without the body part. Such a sudden change proves enormously stressful as well as physically and emotionally challenging.
If your amputation was caused by someone else's negligence or wrongdoing, you may be able to seek compensation for your injuries, damages, and losses.
In such cases, you would be well advised to seek the counsel and help of an experienced West Virginia personal injury lawyer who can guide you through the legal process and protect your rights.
Common Causes of Amputations in West Virginia
A traumatic event or accident is frequently a factor in an amputation injury. Here are some of the most common causes of limb loss or amputations. Workplace accidents are the most common cause of amputation injuries. Coal mines, power plants, gas rigs, and construction accidents can lead to amputation of fingers, arms, or legs.
Auto Accidents Causing Loss of Limbs
Auto accidents are one of the leading causes of amputations. For example, the lower extremities of a victim may be crushed when he or she is pinned under a motorcycle or when struck with significant force by a vehicle in a pedestrian accident.
In such cases, there might not be many surgeons can do to repair the damage to the limb. As a result, an amputation might become necessary in order to limit the risk of other life-threatening complications.
Limbs may also become severed during an auto accident or may become mutilated because of lacerations. If a limb has been damaged beyond repair due to deep lacerations, doctors may have no other option but to amputate the limb. In such cases, amputation may become necessary to prevent infections from spreading.
Auto accidents are often caused by someone else's negligence or wrongdoing. When a limb amputation occurs due to the actions of a reckless or negligent driver, the victim may be able to seek compensation for the injuries, damages, and losses that he or she has sustained.
Worksite Accidents Causing Amputation Injuries in West Virginia
Amputations are among some of the most serious and debilitating injuries that occur in the workplace. The different kinds of work and activities that are being carried out as well as the equipment that is being used at the workplace contribute to such injuries.
Workers who operate unguarded machinery or machines that don't have proper safeguards are frequently involved in injury incidents that lead to limb amputations.
Certain types of machines such as mechanical power presses, food slicers, meat grinders, saws, drill presses, and milling machines inherently pose a significant amputation hazard, especially if they are unguarded or lack proper guards.
The oil and gas industry, pipeline construction, and coal mining are common sites of limb loss injuries.
In addition to these types of equipment, amputations may also occur when workers operate or work near construction sites, forklifts, trash compactors and power tools.
A 2016 report from the Occupational Safety and Health Administration (OSHA) shows that there were 10,388 severe injuries caused by workplace conditions in 2015.
These injuries led to 7,636 hospitalizations and 2,644 amputations. A new regulation passed by OSHA in 2015 requires companies to report serious workplace accidents such as amputations within 24 hours. This system was put in place in order to reduce the number of serious and disabling workplace injuries such as loss of limbs.
It is possible for employers to prevent workplace accidents that lead to amputations.
Without proper safety guards and training, the risk of an injury that causes loss of limbs may significantly increase. Amputations in the workplace often occur as a result of a failure to adhere to safety standards, lack of machine maintenance and a failure to provide job and safety training to employees.
Workers who have suffered the loss of limbs or other body parts in a work-related accident can seek compensation for damages such as medical bills, a portion of lost wages and vocational training expenses, etc.
In addition to workers' compensation, you may be able to seek compensation from a third party other than your employer or co-employees whose negligence caused your accident. Examples of third parties include manufacturers of defective products.
Defective Products Causing Loss of Fingers, Toes, or Limbs
Other than heavy machinery, everyday products that are poorly designed or malfunction may also cause amputations. There are products ranging from children's toys and strollers to power tools and kitchen appliances that have been recalled for the risk of amputations.
If you have been injured by a defective product, you must be able to prove certain elements in order to be successful with your products liability claim.
In product defect cases, like any other personal injury case, the burden of proof is on the plaintiff. This means that you as the plaintiff must prove the manufacturer's negligence caused your injuries.
There are three elements in any product defect case. First, you must be able to show that the product was actually defective. Next, you must prove that the product defect was the cause of your injury. The third step is to prove that you suffered injuries and damages as a result of the product defect.
Product manufacturers have a duty and a legal obligation not only to make products that are safe for consumers, but also to warn consumers when a product has certain inherent dangers. "Failure to warn" consumers about a product's dangers may also serve as a basis for a product defect lawsuit.
What Compensation Can You Seek After An Amputation Injury?
Those who suffer amputations or limb loss – regardless of how it is caused – struggle physically, emotionally and financially in the aftermath of such a traumatic event. They are unable to return to work or enjoy the life they had prior to the accident. They must also deal with expenses relating to medical care and not having an income, at least for the duration of their recovery.
Here are some of the damages you may be able to seek if you have suffered an amputation in West Virginia:
Medical expenses:This includes emergency care, surgeries, hospitalization, medical equipment, cost of medications and other costs that might arise in terms of treatment and care.
Lost income:Most amputees are unable to return to work for an extended period of time. Some lose their livelihoods because their jobs cannot be performed due to their current disability. In such cases, individuals may seek compensation for lost income and loss of earning capacity.
Prosthetics:Significant advancements have been made these days when it comes to prosthetics for amputees. However, these devices cost thousands of dollars and it takes therapy and training for someone to learn to use and live with prosthetics.
Pain and suffering:This refers to both physical pain and mental suffering endured by victims. Most amputees suffer from depression as a result of losing a body part and often, because they are unable to return to work and earn a livelihood.
Contacting Our West Virginia Amputation Injury Attorneys
If you or a loved one has suffered an amputation as a result of auto accidents, workplace accidents or defective products, etc., our West Virginia personal injury lawyers can help you secure maximum compensation for your injuries, damages, and losses.
We work on a contingency fee basis, which means you do not have to pay any fees or costs until we recover compensation for you. We understand the challenges you face and will assist you in accessing the help and resources you need during this difficult time.
Robinette Legal Group PLLC
211 Everhart Dr, Ste 200
Morgantown, WV 26508
(304) 594-1800
Call us today to find out how we can help you.