If you have been injured in a commercial delivery truck collision, the law in West Virginia may entitle you to financial compensation. The Morgantown attorneys at Robinette Legal Group, PLLC have years of experience handling delivery truck accident cases. We can help you and your family receive the monetary recovery you need and the justice you deserve. Request a free consultation today for more information.
Why Choose Us
We have the ability and resources to go up against any delivery company, including Amazon, UPS, USPS, and FedEx. We are not afraid to take large corporations to trial, when necessary.
We provide personalized legal services that are custom-tailored to each client's unique needs. You will benefit from one-on-one care and attention from your truck accident attorney.
Attorney Jeff Robinette is a prior insurance attorney. This gives him unique insights into how insurance companies operate, as well as how to properly negotiate an accident claim.
Our Morgantown delivery truck accident lawyers operate on a contingency fee basis. This means we do not charge for our services unless we succeed.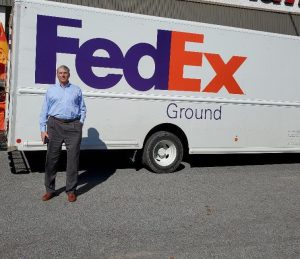 Why You Need to Hire a Morgantown Delivery Truck Accident Lawyer
You already have enough on your plate as someone who has suffered a serious injury in a commercial delivery truck accident. You should not also have to take on a complicated insurance claim or personal injury lawsuit. Hiring a commercial truck accident attorney to represent you during negotiations with an insurance claims adjuster can give you the peace of mind to focus entirely on your recovery. It will also optimize your chances of obtaining a positive case outcome, as a delivery truck company's insurance provider is more likely to take an attorney seriously.
Top Causes of Commercial Delivery Truck Collisions
Commercial delivery trucks are an important and necessary part of our country's economy. However, they also pose unique risks to other roadway users, such as large blind spots and wide turns. It is a delivery company's responsibility to reasonably ensure the safety of a delivery. It should do this through proper driver training and fleet maintenance, among other duties. Delivery truck drivers also bear responsibility for the safety of deliveries.
Unfortunately, thousands of delivery truck accidents take place throughout the U.S. each year due to preventable mistakes and errors, such as:
Driver distraction
Texting and other cell phone use behind the wheel
Using headphones while driving
Inexperienced and untrained delivery truck drivers
Running red lights and other traffic violations
Driving under the influence of drugs and alcohol
Speeding in residential areas and school zones
Poor delivery truck maintenance and part breakdowns
Passenger vehicle driver error
Poor and inadequate truck maintenance
If you believe that someone else's carelessness or recklessness caused your commercial delivery truck collision in Morgantown, you may be entitled to financial compensation.
Common Injuries From Delivery Truck Collisions
Commercial delivery trucks can easily weigh tens of thousands of pounds. By contrast, the average passenger car weighs just 3,000 pounds. This difference means a collision between these two vehicles is often devastating for the latter. The injuries suffered can be even more severe if a delivery truck in Morgantown strikes a bicyclist or pedestrian, such as a child.
Common injuries associated with delivery truck accidents include:
Crush injuries
Head trauma and concussions
Internal injuries
Lacerations
Rib fractures
Spinal cord injuries
Whiplash
Wrongful death
These injuries can cost you and your family thousands of dollars in medical expenses, including ongoing and future medical needs. You may also suffer financial strain from the inability to go back to work, either temporarily or permanently. One or more parties may be financially responsible (liable) for these losses.
Who Is Liable for a Delivery Truck Accident?
Liability is something you must determine before you can file an insurance claim for a commercial delivery truck accident in West Virginia. The state uses a tort-based insurance system, meaning the person or party who caused your crash is liable. A truck accident lawyer can help you determine liability, if necessary, through a thorough investigation of your truck collision.
Liability for a commercial delivery truck accident in Morgantown may be assigned to any of the following parties or a combination of parties:
The delivery truck driver
The delivery or trucking company
A store or restaurant
The owner/operator of the delivery truck
The maintenance team in charge of truck repairs
A delivery truck or trailer manufacturer
A third-party driver
The government
Determining liability requires an understanding of negligence. Negligence is a legal term often used in motor vehicle accident law that refers to someone's careless action or omission that causes injury to another person. If any of the above-mentioned parties was negligent or reckless, and this caused your delivery truck accident, that party is liable for your losses.
Unique Evidence in Commercial Delivery Truck Accident Cases
If you get injured in a delivery truck accident, do your best to collect evidence while still at the scene of the crash. The evidence used in a commercial truck accident case is different from a standard car accident case. Commercial delivery trucks often contain black boxes, or electronic data recorders. They record data about the trip and truck that can be useful during an accident claim.
Other important evidence may include:
The police report
Photographs and surveillance footage
Eyewitness accounts of the truck accident
Delivery company compliance reports
Delivery truck driver employment records
The truck driver's medical records
The driver's cell phone records
Delivery truck inspection reports
Testimony from crash and medical experts
Contacting an attorney right away after a delivery truck accident can help you preserve and obtain key evidence. Prompt action is especially important in a commercial accident case, as most trucking companies send rapid response teams to collect evidence from the scenes of accidents immediately. Hiring a lawyer allows you to protect evidence that can help you bring an injury claim.
Contact Our Commercial Delivery Truck Accident Attorneys in Morgantown Today
Delivery truck accident injuries are often severe. If you or someone you love recently suffered an injury in a commercial delivery truck accident in Morgantown, please contact Robinette Legal Group, PLLC for help. Our lawyers can litigate your claim aggressively to obtain the compensation you deserve from a delivery company or another defendant. We can discuss your ability to take legal action during a free consultation. Request yours today by telling us about your case or by calling (304) 594-1800 anytime.
Call us today to find out how we can help you.