At Robinette Legal Group, PLLC, we help injured workers and their families seek legal remedies for mining accident injuries throughout West Virginia.
Coal mining has been a staple of West Virginia's economy since the 1700s. Morgantown – one of the state's many coal mining towns – employs hundreds of coal miners. Sadly, many coal mine workers are injured and killed in devastating mining accidents each year.
Why Choose the Morgantown Mining Accident Injury Lawyers at Robinette Legal Group?
Coal mine injury and death cases are one of our law firm's primary focuses. We understand the dangers of coal mines and the importance of safe operations when mining. Our lawyers can use their knowledge of laws such as the Mine Improvement and New Emergency Response Act and the Federal Mine Safety and Health Act to shape their clients' cases. We can expertly analyze your recent mining accident in West Virginia to create the most aggressive legal strategy on your behalf.
Contact us today for a free legal consultation if you've been injured in a mining accident near Morgantown, West Virginia.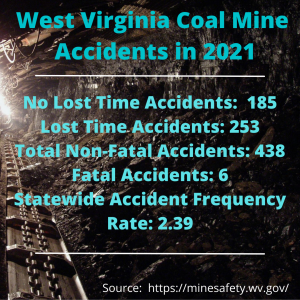 What Are the Most Common Types of Morgantown Coal Mining Accidents?
Coal mining is one of the most dangerous jobs in West Virginia. The coal industry puts workers at risk of serious injuries from many different types of accidents in both underground mine shafts and on ground level, including:
Coal mining explosions
Coal stockpile collapses
Coal truck accidents
Defective tools or equipment accidents
Fires and explosions
Heavy machinery accidents
Roof fall accidents
Surface mining accidents
Most coal mining accidents, injuries, and deaths are avoidable. Coal mine owners and operators are responsible for maintaining safe workspaces. They must obey strict state and federal safety regulations in terms of employee training, facility safety, and equipment maintenance. Most accidents occur when these regulations are violated or ignored.
Federal regulations are the most powerful mechanism we have to prevent accidental death in the workplace.  Over the past four decades, there has been an ever-increasing takeover of government agencies by the very corporations the regulations were designed to control.   We call this Regulatory Capture, and in truth, the appearance of corporate accountability is worse than none at all, because the workers feel like they are protected when they are not when the regulatory agencies are taken over by the companies they are supposed to hold accountable.
For example, in 2011, in Raleigh County, West Virginia, a coal mine crew leader was killed when a portion of the mine he worked in collapsed.  The mine was owned by Rhino Resource Partners.  MSHA investigated and found that the only machine available in that mine to install roof supports of wood and bolts was not powerful enough to penetrate the most sturdy parts of the wall.  Instead, the miners were limited to installing supports to hold up the mine walls into the weakest parts of the wall.  It was known to be a dangerous condition that led to a predictable death.
The company, led by David Zatezolo, paid its fine as they had after the previous fatal accidents that had occurred in other Rhino mines.
In 2017, President Trump appointed Mr. Zatezolo to be in charge of the Mine Safety and Health Administration (MSHA).  Mr. Zatezolo quickly revoked a regulation that required mine inspections to be conducted while the miners were working.
The new rule also stated that if a mine quickly corrected a safety violation, MSHA would erase the violation from their company record.  The result was that it was more difficult for inspectors to trace the history of violations particular to a mine over time, including violations leading to death.  This situation appears to be allowing the fox to guard the henhouse.
Examples of Morgantown Mining Accident Injuries
Coal mining accidents can easily be catastrophic, meaning they inflict life-changing or fatal injuries on those involved. At Robinette Legal Group, PLLC, we have the experience and resources to help you with any type of injury after a mining accident, including:
If you or a loved one suffered a catastrophic injury in a mining accident in West Virginia, you may be entitled to compensation for your lifelong expenses. These may include medical care, physical therapy, rehabilitation, and lost capacity to earn. You could also recover financial compensation for noneconomic damages, such as physical pain, permanent scarring and disfigurement, and emotional distress.
Do You Have a Morgantown Coal Mine Injury Claim?
If the owner or operator of a coal mine in West Virginia violated a safety regulation or committed another act of negligence (the legal term for a careless act that causes injuries), they may be held liable for related serious injuries or deaths. West Virginia allows injured employees to bring lawsuits against their employers if they were hurt as a result of unsafe conditions that the employer was aware of. A lawyer can investigate your coal mining accident to determine if there was deliberate intent to ignore a safety hazard by your employer.
If not, you may still have grounds to file a lawsuit against a third party other than your employer for causing or contributing to the accident, such as a product manufacturer or subcontractor. You may also be eligible for a workers' compensation settlement, which can reimburse you for your medical bills, disability expenses, and partial lost wages.
Injured in a Mining Accident near Morgantown, West Virginia? We Can Help | Call (304) 594-1800
The personal injury attorneys at Robinette Legal Group, PLLC can help you understand all of your legal options after being injured in a coal mining accident in Morgantown. We care about West Virginia's coal miners and are passionate about standing up for their rights after preventable coal mining disasters.
Find out how our West Virginia Mine Accident Lawyers can help you and your family today. Call (304) 594-1800 or send us a message online to request a free legal consultation.
Call us today to find out how we can help you.