Jeff Robinette is an award-winning insurance disputes lawyer representing the injured throughout the state of West Virginia.
We Will Help You File Your Insurance Claim Right the First Time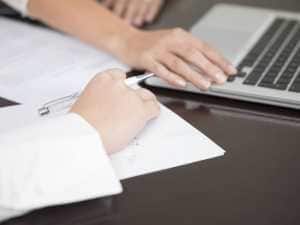 Insurance companies often offer a low reward to cover medical expenses resulting from an accident. Insurance disputes are time-consuming, aggravating, and sometimes futile. Saying yes may be tempting, but a personal injury lawyer can help secure the full cost of any injuries sustained.
Most of us live busy, active lives, balancing our time between our jobs and family, saving a few quiet moments each day to maintain our peace of mind.
When tragedy strikes, we are suddenly confronted with tackling complex issues and making decisions we are simply not prepared for. Dealing with your insurance company will only frustrate your already grief-stricken situation, and you need help.
The Robinette Legal Group is a former insurance defense firm and we understand the complexities of getting your insurance claim filed right the first time. You shouldn't need an attorney to file a simple claim, but insurance companies can build roadblocks designed to frustrate even the best of us. We use our experience to now help people navigate the difficult insurance problems. We handle everything, so you can relax and get your life back to normal.
Hiring a West Virginia Insurance Disputes Lawyer
From our offices in Morgantown, we advise and represent clients in communities throughout West Virginia. You will find our hourly rates reasonable and our staff ready to help. In many insurance claims cases, we work on contingency. You only pay us a percentage of the amount we help you recover.
Put your insurance claim concern in our hands. We have years of experience handling claims such as:
Auto/Motor vehicle accident property damage and injury claims
Homeowner insurance claims
Car insurance coverage disputes
Business and commercial insurance disputes and litigation
We Know You Have Questions. After All, Why Shouldn't You?
Our law firm can answer your questions and put your mind at ease about filing for the policy benefits you expect to receive. If the insurance company doesn't come to the table with a fair settlement, our skilled trial lawyers will aggressively argue your case in court. We have years of courtroom experience that we are ready to use in your case.
Please contact our West Virginia insurance claim attorneys to arrange a free consultation about your insurance claim or a coverage dispute with your insurance company. It makes sense to let us handle everything.
Related Articles
Quick Report: What an Ex-Insurance Lawyer Knows about Insurance Companies
Where Are the West Virginia Car Insurance Premium Reductions?
You're Uninsured. What Do You Do If You Are Sued?
More Uninsured Drivers on Country's Roads
An Alternative for Injured People When a Lawsuit is not an Option
The Insurance Shell Game: Are You Their Next Mark?
What is First Party Insurance Bad Faith?
Limitations of Med-Pay Insurance Coverage
How Much Car Insurance Is Needed?
Call us today to find out how we can help you.