The West Virginia car accident Lawyers at Robinette Legal Group compassionately guide clients through the claims and filing processes to help them get the compensation they deserve, as well as some peace of mind.
Car Accident Lawyers in West Virginia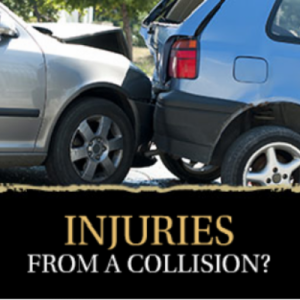 An auto accident is one of the most stressful experiences people go through. It can be hard to know what steps to take after an accident.
Turning to a West Virginia car accident attorney is one of the first steps to take. We walk our clients through how to file a claim and work with insurance companies. Most importantly, we help them get the compensation they deserve.
Our hearts go out to you if you have been in a car accident. We understand how physically and emotionally taxing the experience can be – and we want to help you through it!
Dedicated, experienced West Virginia car accident lawyers at Robinette Legal Group, PLLC, have the resources necessary to help you win your case.
Why Consider Consulting a West Virginia Car Accident Attorney?
Insurance companies and other drivers can sometimes be difficult to work with. This is why we recommend having a West Virginia car accident attorney on your side.
The at-fault driver and their insurance company do not want to pay if they do not have to. So, they will do all they can to either not pay the victim or offer them less than they deserve or need to recover from the accident financially. If you have sustained a rotator cuff injury, bulging disc injury, broken bones, or herniated disc injury, you may be eligible for substantial compensation.
Pursuing an insurance claim – or going to court – takes a lot of time and energy. It also takes knowing how the legal system works and what rights a victim has in this situation. That is why having an automobile injury attorney on your side is so important.
Ensuring Your West Virginia Car Accident Claim is Processed Correctly and Quickly
At Robinette Legal Group, PLLC, we help take some of the pressure off our clients by doing all we can to resolve the issue as quickly as possible.
To do that, we need some help from our clients. Some ways you can help us include:
Talking to our team as soon after the accident as possible
Sharing insurance policy documents
Letting your insurance rep know you have been in an accident
Asking the insurance company what documents they need for your claim (these can include medical treatment costs, police reports, mechanic's bills, and other losses)
Asking the insurance rep when they need you or your legal representative to submit the paperwork
We also advise our clients to document all their conversations with their insurance company, whether they speak to their personal representative or a claims adjuster. It is important to document:
The name of the agent
Their position in the company
Their direct phone number
Which office do they represent
What was discussed
Robinette Legal Group, PLLC: Helping Car Accident Victims Get What They Deserve
Robinette Legal Group is a West Virginia Car Accident Law Firm with decades of experience helping victims of car accidents.
We also enjoy a good reputation in our community, resulting in multiple awards and community recognition. These include:
The Avvo Client's Choice Award
Litigator Awards 2016 Top 1% Personal Injury Law Firm
What sets us apart is our commitment to viewing our clients not just as clients but as family – as members of our community. You have been through a stressful, scary experience. You deserve compensation, and we want to help you get it.
Jeff Robinette: Highest Rated West Virginia Car Accident Lawyer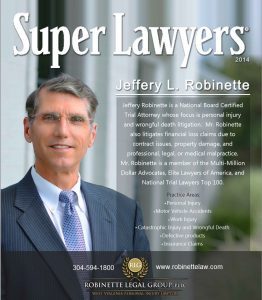 What To Do After A Car Accident in West Virginia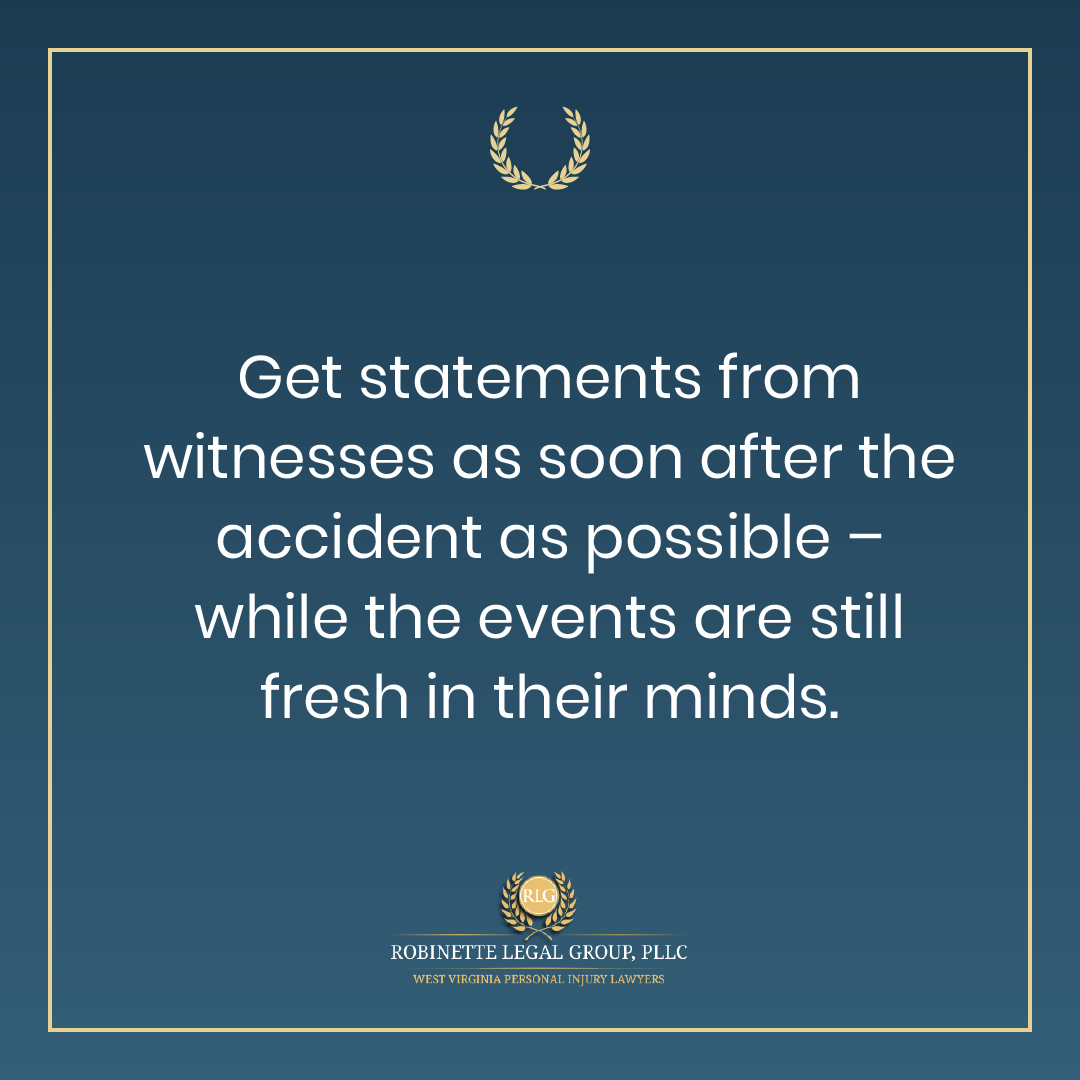 Directly after an auto accident, those involved will want to make sure they exchange insurance and contact information.
Insurance companies will need to be contacted as it is typically part of the agreement between the insured and insurer to do so. Another reason to contact an insurer right away is that injuries and emotional damages are not always apparent at the scene. Letting the insurance company know there's been an accident right away will prove that any damage to a person or property occurred as a result of the accident.
The accident should also be reported to the police. West Virginia law states that crashes resulting in death, damages, or injury amounting to $1,000 or more must be reported to the police.
If possible, victims should talk to witnesses of the accident, obtain their contact information, and request a written statement. The insurance company of the at-fault party will defend their client and challenge any claims made against them. Witness statements are the proof victims need to support their claim against the at-fault driver.
It is also important to discuss the case with a West Virginia car accident lawyer. The consultation is free, so all that is required is a time investment. Many people find it is worth talking to an attorney to make sure insurance companies don't bully them and to ensure they don't accept an unfair settlement.
How a West Virginia Car Accident Attorney Can Help
A West Virginia auto accident lawyer helps their clients by:
Communicating with the at-fault driver's insurance company
Investigating and obtaining evidence
Reviewing medical records and bills
Communicating with medical providers to prove the claim and get an accurate amount pertaining to medical costs
Negotiating with lien holders to hopefully reduce the amount of the liens
Negotiating a fair settlement
Why Choose the West Virginia Auto Accident Attorneys at Robinette Legal Group, PLLC?
Choosing a West Virginia car, motorcycle, or truck accident attorney is one of the most important decisions victims and their families can make.
Jeff Robinette has a decades-long track record within the local and state communities of negotiating satisfactory settlements (with defense attorneys or insurance companies). He is ranked in the top one percent of lawyers (Litigator Awards). Mr. Robinette served our country in the Army's 82nd Airborne Division prior to studying law.

Our team is caring, trustworthy, and compassionate. We are committed to helping you through this process without undue stress. Contact us to learn more or to schedule a free consultation.
Types of Cases Our West Virginia Car Accident Attorneys Handle
We work with a variety of clients who have injured by the following types of accidents in West Virginia:
The Auto Accident Lawyers at Robinette Legal Group, PLLC serve all of West Virginia including, but not limited to, these areas: Morgantown, Kingwood, Bruceton Mills, Preston County, Terra Alta, Westover, Star City, Granville, Elkins, Grafton, Fairmont, and Arthurdale.
How to Deal with Auto Insurance Companies After an Accident
While it is important to inform insurers of an accident, it is best to avoid discussing the case too much with them. Insurance companies do not earn a profit from paying settlements. Whatever you say can be used against you and result in the insurance company denying the claim or offering you an unfair settlement.
Even insurance companies recommend avoiding admitting fault or discussing policy limits.
Thankfully, insurance companies are not the only ones investigating the accident. We are, too! Our team can counter unfair offers with proof that our client deserves more.
FAQs: West Virginia Car Accident Information to Know
The following are some questions our clients often ask us. We hope they help. If there are still some unanswered questions, please contact our team. We are happy to help!
Is It Better to Get a West Virginia Lawyer for a Car Accident?
Absolutely. Our West Virginia auto accident lawyers have years of experience:
Dealing with insurance companies
Investigating auto accidents
Filing claims and lawsuits
Fighting cases for their clients
They can streamline the process of filing a claim and dealing with insurance companies and defense lawyers to ensure accident victims are fairly compensated.
Is Getting a Car Accident Lawyer for a Minor Car Accident Worth It?
After a minor accident, those involved might not feel the need to file a report or seek assistance from an attorney because they feel fine and vehicle damage was minimal.
Unfortunately, this can result in multiple problems.
First, some injuries (such as whiplash from a rear-end collision) take days to manifest. The victim should not be responsible for the resulting medical expenses.
Second, facts can get muddled. Plus, even if someone said at the accident scene that they were at fault, if a report is not filed, there is no way to prove they admitted this. In some cases, the at-fault party ends up filing a claim against the real victim.
First reporting the accident and then discussing it with an attorney is the best way for victims to protect themselves.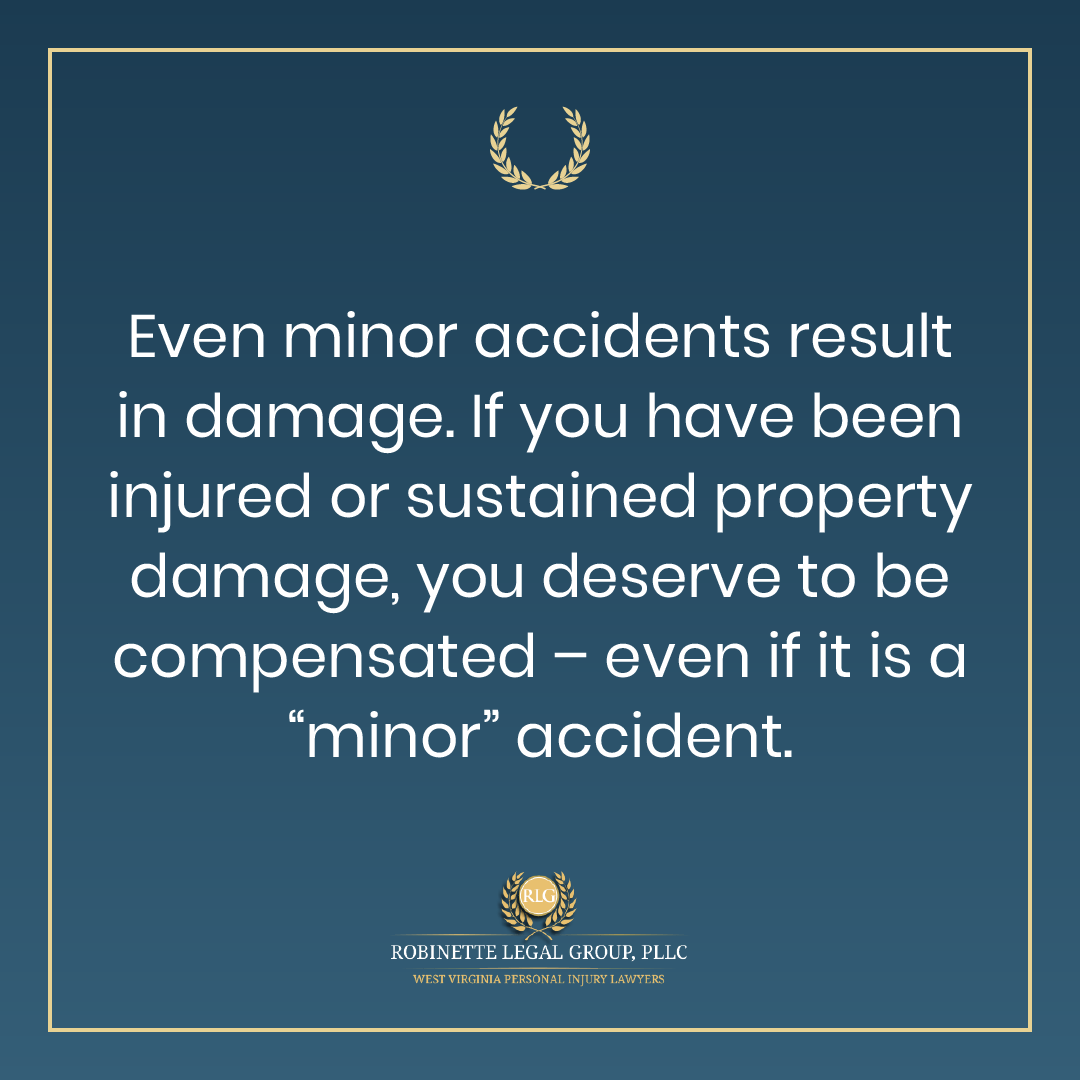 Should I Get a Lawyer for a Car Accident That Was Not My Fault?
Yes, you should. Those not at fault should get a car accident attorney to protect them, argue their case, and ensure they're compensated for whatever damage or injury they suffered.
Can I Get a Settlement Without a West Virginia Auto Accident Lawyer?
Yes, it is possible to get a settlement without an attorney. However, it is a lot of work and, if not done correctly, can result in receiving less than is deserved.
An attorney can help their clients avoid missing anything pertinent to their claim/case, such as getting a clear idea of all physical, mental, emotional, and financial damages caused by the accident. Costs can include (but are not limited to):
Medical expenses (current and future)
Damages to the vehicle and repair costs, if applicable
Income lost from work
Future income lost
An auto accident lawyer knows what to look for and who to talk to about the accident. They are a victim's best bet at receiving the largest possible settlement.
How Much Does It Cost to Hire a Car Accident Attorney in West Virginia?
We do not get paid until our clients are paid (contingency fee agreement). We review our percentage with each client before they agree to work with us so they have a clear idea of how much they will pay when their case is concluded.
Can an Attorney Help Motorcycle Accident Victims?
Absolutely! A West Virginia motorcycle accident lawyer can assist victims of motorcycle accidents by filing claims and seeking damages from insurance companies or defense lawyers.
Get Your Free Case Evaluation Now With A Proven, Trustworthy Car Accident Attorney in West Virginia
We understand just how scary and life-altering an auto accident can be. It can be difficult to know who to turn to in these cases. We urge our neighbors to turn to the Robinette legal team.
Our compassionate team will provide you with the guidance you need to get the compensation you need and deserve. Let us show you what is possible. Reach out to our West Virginia personal injury law firm today.
What Causes Auto Accidents?
According to the National Highway Traffic Safety Administration (NHTSA), 9% of fatal accidents were the result of distracted driving. Distractions can include:
Other passengers
Texting
Talking on the phone
Checking social media/email on the phone
Eating
Changing the radio
Other causes of motor vehicle accidents include:
Drugs (prescription, over-the-counter, and illicit drugs)
Fatigue
Unsafe/reckless/aggressive driving practices (speeding, not using a blinker, tailing, running red lights)
Weather conditions
Not adjusting driving habits to fit weather conditions
Road conditions (poorly maintained roads)
Vehicle defects
Sudden stops
Lane splitting (motorcycles)
Inexperienced drivers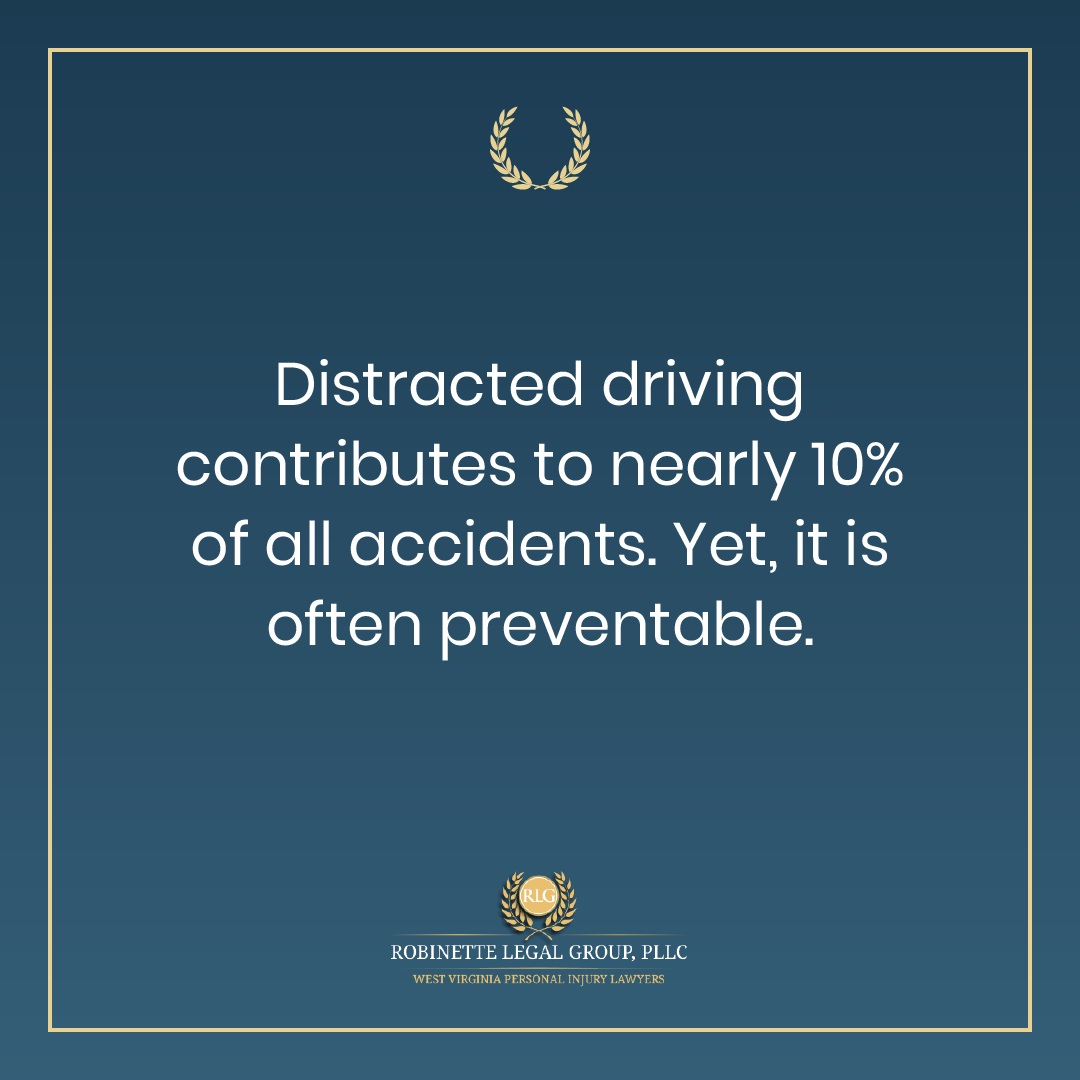 Traffic Laws in West Virginia
In this state, multiple laws are in effect to keep drivers, their passengers, pedestrians, and anyone else on the road safe from harm. These laws include:
Headlight regulations – using headlights in poor weather, at certain times of day, and when visibility is below 500 feet.
Bumper height laws – vehicles over 10,000 pounds cannot have front or rear bumpers lower than 6 inches from the ground.
Video screen regulations – video screens are allowed in vehicles as long as they are not in the driver's view.
Motorcycle laws – motorcycle riders must, for example, use their headlights at all times while driving on the highway.
West Virginia also has accident liability laws. For instance, drivers must have liability insurance coverage, the minimum of which is $20,000 for the injury or death of one person and $10,000 for the destruction of property. WV law requires that drivers always carry proof of insurance. Doing so can protect drivers from fines if they are pulled over. Additionally, it is useful during an accident as all parties involved need to share this information, which will be helpful when filing an insurance claim or when a West Virginia car accident attorney investigates the case.
Have you or a loved one been in a car accident? Contact our West Virginia Car Accident Lawyers to schedule a free consultation and find help today. 304-594-1800
Articles:
Call us today to find out how we can help you.