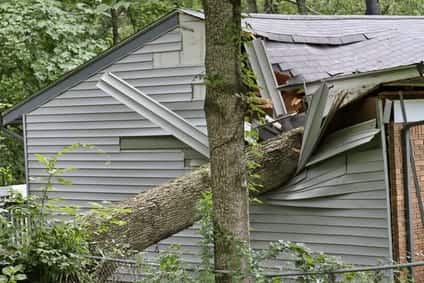 Legal Responsibility in West Virginia After a Falling Tree or Branch Causes Damage and Injuries
So, if a tree falls on a car, whether it is a falling limb or an entire tree tipping over, who should be held responsible? In some cases, your own insurance would pay for the damage, and in other cases it may be the responsibility of the property owner.
If the tree was on property owned by the government, whether it is the city, state, or another government entity, then there are special requirements for filing suit against the government.
This typically involves first filing a claim with the government within specific time limits following the incident. In West Virginia, you have two years to file suit.
When a person suffers injury or property loss caused by a tree or tree limb, an experienced personal injury lawyer can help explain your legal options and advise you on what to do next.
The Robinette Legal Group is exclusively a personal injury law firm, so our office only handles tree-hazard litigation when a person has been either seriously injured or killed by a falling limb or tree. We do not take on property damage claims if no bodily injuries have resulted from the falling tree.
A couple of years ago, a sanitation worker collecting trash in an alley in Moundsville, WV was killed when a broken limb fell from a tree and struck him in the head as he was collecting trash.
The limb was apparently damaged in a recent storm; it is unclear whether the truck struck the branch. The worker suffered a traumatic head injury and was transported to the hospital, where he was pronounced dead.
This was called a "freak" accident, but legally, could there have been any premises liability for this fatal injury?
Traditional Standard for Tree Owner Liability
The liability United States tree owners face from hazardous trees on their private properties has and continues to undergo a transformation.
The traditional common law legal test focused upon whether a tree owner had acted to create a hazardous condition on the property. When a tree owner did not act to create a hazardous condition on his or her property, the law did not hold the tree owner responsible for tree accidents. Essentially, the law would not impose liability for the tree owner's failure to act to remedy a natural hazard.
Only in cases where the tree owner had in some way acted to create or increase the risk of harm would liability attach to the tree owner. For example, removing a portion of a stand of trees, thus leaving the remainder susceptible to windthrow could be an example where a human act created a potentially dangerous tree situation.
Modern Trend for Dangerous Tree Litigation
Legal liability for private tree owners by structurally deficient trees or tree limbs has been undergoing a legal evolution over the last four decades.
The modern trend is towards a test that imposes greater responsibility and greater uncertainty on tree owners and arborists.
Abandoning the natural/artificial distinction, the modern test, adopted in half the U.S. jurisdictions, imposes general principles of negligence on tree owners.
Courts in each of the "modern" U.S. jurisdictions, however, have ruled in falling tree and tree-related cases that tree owners owe a duty to both passersby and other property owners to prevent harm to them from potentially dangerous objects on their properties.
The direction in which the trend appears to be proceeding raises the stakes for tree owners. Whereas immunity from legal liability may have previously existed, such liability can now more easily result from a tree owner's actions or failure to act. The responsibilities of individual tree owners, particularly in urban areas, have increased in many states, and nothing suggests that the trend will abate.
Since the U.S. legal trend is clearly toward greater liability for hazardous trees, this warrants paying closer attention to the condition of one's trees more than ever before.
Example of a Tree Liability Case
An example in the state of South Carolina was a lawsuit involving a decayed tree limb that fell onto an adjoining property owner's land, striking and destroying an occupied automobile and injuring its occupant.
The tree owner argued that the law did not impose any duty of inspection on a tree whose limbs happened to overhang an adjoining business property. The court did not agree, determining that while that may have been the prior rule, the modern rule requires the exercise of reasonable care to prevent dangerous trees from causing such injuries.
Negligence in Tree Management
To recover for injuries or damages caused by a falling tree or portion of a tree, an injured party must demonstrate that:
 a tree owner had some duty to prevent the harm,
the tree owner breached that duty,
the breach was the cause of the injured party's harm.
Since the modern trend is to establish in law a duty on the part of the tree owner to identify and repair or eliminate dangerous or hazardous conditions on the property, the modern threshold test is, was the dangerous object under the control or supervision of the tree owner?
But how does a court assess whether the tree in question was, in fact, hazardous or dangerous, and additionally, whether the tree owner's legal duty to eliminate the hazard was triggered?
The legal principle at work essentially states that if a tree owner is actually aware, or should have been aware, of a defect or risk posed by a tree, remedial action is warranted, even required. A tree owner must act as a reasonable person who would have acted in the same circumstances.
How to Identify Tree Risks on your West Virginia Property
Tree owners are not expected to have the expertise of a certified arborist in evaluating tree risk, but there are common defects and situations for which a tree owner may be held responsible as a "reasonable person" in the eyes of the law.
A hazard tree is one that has both a defect that may cause it to break apart or blow over prematurely and a target that could be damaged if the tree were to fail. A tree that has dead branches overhanging a sidewalk or street is a hazard because the dead branches may break off, striking a car or pedestrian. Without a potential target, a tree cannot be considered hazardous. Targets include houses, cars, outdoor decks, and, of course, people.
We recommend that private tree owners should inspect their trees twice annually: when the leaves are on the tree (spring and summer) and, for deciduous species, when the leaves are off the trees (late fall and winter).
Tree owners should also inspect their trees after severe wind events and storms. This is important because strong winds frequently cause tree damage such as broken branches and cracks in the trunk.
Checking trees immediately following storms will help reduce the risk of defects becoming more severe and subsequently causing personal injury or property damage.
Tree Danger Signs
Broken branches (called "widow makers" by arborists)
Weak branch unions
Old wounds
Ooze or fungus indicating decay
Sharp bends
Nesting holes
Excessive pruning
Cracks
Cavity indicating advanced decay
As a home and property owner, you have a legal duty to keep your family and neighbors safe from tree hazards as much as it depends on you. This list is not all-inclusive, so if you have any doubt about the soundness of the trees on your property, hire a specialist to inspect and evaluate safety issues.
Sources:
Hazard tree liability in the United States: Uncertain risks for owners and professionals, by Michael J. Mortimer and Brian Kane, 2004
Call us today to find out how we can help you.