One of the most devastating consequences of a motor vehicle collision, short of death, is spinal cord injury resulting in permanent paralysis.  Thanks to new research, there is new hope for car accident and motorcycle wreck victims and their families.
Experiments conducted by the University of Louisville and University of California have restored voluntary lower body movement to four men who were told they would never move their legs again. By sending electrical currents through the men's spines through epidural stimulation, the researchers have formed a connection between the brain and legs that was formerly believed to be lost forever.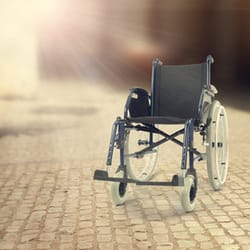 All four men in the trial had been paralyzed for two to four years, and as a result of this experimental treatment were able to support their own weight while standing, lift their legs, and flex their ankles when the device embedded under their skin was turned on.   Most surprisingly to the researchers, these men also were able to regain bladder, bowel and sexual function even when the electrical stimulation device was not running.
It is too early to know if all paralyzed individuals could benefit from this treatment, but at least now, for some, paralysis may not be a life sentence.  This is truly a breakthrough.  These men say now, with the push of a button, they have been given their legs back.  At this point in the research, none of the men have been able to walk, but at least now there is hope.
Submitted by the Robinette Legal Group, Morgantown WV Car Accident Attorneys.  If you have questions regarding motor vehicle accident claims, insurance issue, or how you are going to pay for medical treatment after a collision, call us today:  304-594-1800 or after hours, 304-216-6695.
Source:  USA Today, "Stimulation Restores Some Function for 4 Paralyzed Men," by Karen Weintraub, April 8, 2014.