When You Plan for the 4th of July, Plan In Safety for You and Your Pets! 
As you plan your Fourth of July weekend, please be sure to plan in safety for both you and your pets.
4th of July Safety for Humans:
Tragically, the 4th of July has become one of the deadliest days of the year. Over the past 25 years, nearly ½ of all deadly crashes on July 4th are alcohol-related.
Never drive after drinking and never let someone else drink and drive.  Stay aware of what is going on around you.  Not everyone is as responsible as you!
4th of July Safety for Your Pets:
More Pets Go Missing on the 4th of July than on Any Other Day of the Year!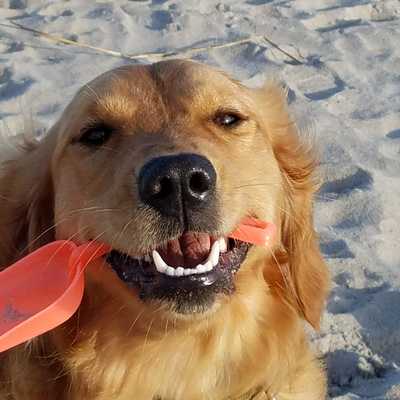 [Our Sweetie at the Beach]
As a lifelong dog lover and golden retriever owner, I know first-hand the terror that fireworks can cause our four-legged friends.
Here are a few tips for keeping your furry family members safe and happy:
Make sure tags and identification are up to date and visible on the collar at all times.
Take a picture of your pet, just in case.
Exercise your pet before the evening festivities begin.
During cookouts or campfires, ask the guests to play with your dog away from the flames.
Keep fireworks, sparklers, glow sticks, and charcoal far from curious canines.
Keep dog treats on hand for those who want to give your dog food.
Leave your dog at home with a frozen stuffed treat in a secure location during the fireworks.
If your dog is afraid of loud noises, play gentle music to help cover the sounds.
If your dog will tolerate it, there are ear protection devices available for sensitive canines.
If your dog is known to bite, please take extra care with your pet so that you don't end up your holiday with a dog-bite lawsuit!
I hope this helps!  Independence Day should be a time of celebration. Have a great holiday and keep it fun for all by keeping it safe!
Jeff Robinette