Early Treatment Including Physical Therapy Reduces Suffering for Patients with Low Back Injuries
By Dr. Justin Deskovich, DPT, MPT, OCS, SCS CSCS, DAC of Orthopedic and Sports Physical Therapy Associates Morgantown, West Virginia
Low back pain (LBP) affects up to 80% of Americans at least once in our lives with re-occurrence rates from 50% up to 75%. Low back pain can result from a motor vehicle accident, a work related injury, falls, or even from bending over to pick something up.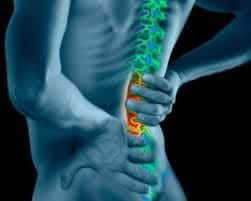 Despite the belief LBP resolves on its own, current research proves that many individuals continue to suffer from chronic LBP or recurrent episodes of LBP. In fact, current best evidence supports going directly to a physical therapist within 16 days from the onset of low back pain for a movement evaluation and treatment. Early treatment by a physical therapist for LBP leads to less patient suffering and decreased costs to the health care system.
Expensive imaging, like Magnetic Resonance Imaging (MRI) and CT Scans often provide the patient with false positives that miss-directs treatment. Studies show up to 80% of the time, the best spinal surgeon cannot diagnose the specific medical cause of your LBP. Because of inefficiency of medical interventions for treatment of LBP a new model has been developed. Rather than diagnosing the medical cause of LBP, physical therapists can diagnosis movement dysfunctions to better direct treatment for your LBP. Would it not be more important to treat the cause of your LBP instead of only treating symptoms?
At Orthopedic & Sports Physical Therapy Associates (OSPTA) Morgantown and Farmington, Dr. Justin Deskovich, a physical therapist, provides his patients with treatments supported by best current evidence. He uses a comprehensive approach to rule out serious medical pathology and provides patients with detailed physical examinations. This allows him to diagnose movement dysfunction often causing the patients LBP. By diagnosing movement dysfunction, Dr. Deskovich can treat the cause of your LBP. Treating the cause, not just the symptoms, will help decrease your pain and get you back to action.
For more information visit our website at www.osptamorgantown.com or see below for our hours of operation and contact information.
Dr. Justin Deskovich, DPT, MPT, OCS, SCS CSCS, DAC
APTA Board Certified Orthopedic Specialist
APTA Board Certified Sports Specialist
NSCA Certified Strength and Conditioning Specialist
Direct Access Certified
OSPTA Farmington Managing Physical Therapist and Facility Director
OSPTA Morgantown Managing Physical Therapist and Facility Director
OSPTA Morgantown and Farmington Internship Program Director
Day and Evening Hours Available
Orthopedic and Sports Physical Therapy Associates Morgantown
3109 University Ave., Suite F
Morgantown, WV 26505
Phone: 304-241-5670
Fax: 304-381-2198
Orthopedic and Sports Physical Therapy Associates Farmington
4174 National Pike Road
Farmington, PA 15437
Phone: (724)329-4723
Fax: (724)329-4724