Roadway and highway construction work zones are hazardous both for motorists who drive through the complex array of lane changes, signs, and barrels and also for workers who build, repair, and maintain our streets, bridges, and highways.
Road construction workers place their lives in the hands of other workers on site, as well as equipment manufacturers and the drivers of vehicles traveling through their designated work zones on our West Virginia interstate highways.
The highway construction season also coincides with the most enjoyable months of motorcycle season, causing additional hazards to bikers as well as the workers on the highways.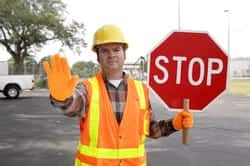 West Virginia State Troopers have launched a new initiative in conjunction with the DOT to increase safety in these highway work zones called "Operation Work Zone Safety: Danger Zone."
A trooper dressed as a construction worker uses a laser unit to clock the speed of motorists and then he radios ahead to troopers who pull over the drivers.  This is not considered a speed trap because the zone is clearly marked.  The goal is safety, not increasing revenue from ticketing.
Officers have observed that the longer a work zone has existed, the more likely motorists are to speed through and ignore warnings.  So, never let down your guard in these familiar areas, for your safety and the safety of the work crews.
Each year over 33,000 workers are injured in road construction work zones.  In 2012, seventy-five percent of occupational fatalities in work zones were to the following occupations: construction laborers, highway maintenance workers , heavy and tractor trailer truck drivers, first-line supervisors of construction an extraction workers, and construction equipment operators.
The leading cause of highway construction worker injuries and fatalities is contact with construction vehicles, objects, and equipment. The second most common cause of worker fatalities are collisions between vehicles/mobile equipment.
Nearly half of worker fatalities are caused when workers are run over or backed over by vehicles or mobile equipment. More than half of these fatalities were workers struck by construction vehicles rather than vehicles passing through the work zone.
Other injuries and fatalities to road crew workers were caused by:
Contact with objects or equipment
Slips, trips, or falls
Overexertion
Transportation incidents
Exposure to harmful substances or environments
Runovers/backovers (often by dump trucks)
Collision Between Vehicles/Mobile Equipment
Caught in Between/Struck by Construction Equipment and Objects
If you have been injured in a work zone, the attorneys at Robinette Legal Group, PLLC have the professional resources to handle the most complex construction accident claims, including wrongful death and catastrophic injuries such as brain injuries, back and spine injuries, and disfigurement.
From our offices in Morgantown, we represent injured construction workers throughout West Virginia. Contact us today. If you do not yet have a workers' comp lawyer, we will refer you to one.
Questions?  Call Today:  1-304-594-1800 or after hours, 1-304-216-6695.
Sources:
WV Metronews, "Troopers Target Work Zones; Write Tickets," by Jeff Jenkins, June 2, 2014.
Department of Transportation, "Worker Safety," December 4, 2013.
Center for Disease Control and Prevention, "Highway Workzone Safety," January 27, 2014.