Motorcycles, motor-driven cycles, and mopeds in West Virginia may now have lights that are underneath the body and turned on while the motorcycle, motor-driven cycle or moped is being operated at night to reduce the chance of a motorcycle wreck on our WV roads and highways.
Delegate John Overington reported that his HB 2477, to allow auxiliary safety lighting on motorcycles, has passed the House of Delegates, the Senate, and was approved by the Governor of West Virginia.
This change which will now allow for motorcycles to be equipped with the following auxiliary lighting:
•· Amber and white illumination
•· Standard bulb running lights or light-emitting diode pods and strips
•· Lighting shall be non-blinking, non-flashing, non-oscillating and shall be directed toward the engine and the drive train of the motorcycle to prevent interference with the driver's operation of the vehicle.
Even with the passing of this legislation to allow additional lighting on motorcycles to make them more visible to other traffic, both the bikers and other vehicle operators have a responsibility to keep aware and be on the lookout for potential collision hazards.
New WV Motorcycle Auxiliary Lighting Bill History: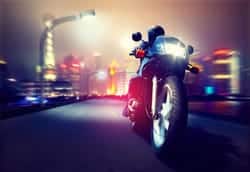 In 2013, Delegate Overington of Martinsburg, West Virginia introduced and pushed for the bill's approval and it passed the House of Delegates but ran out of time in the State Senate. Mr. Overington reintroduced the bill in the 2014 session of the WV legislature and it has finally gained approval.
The passage of this bill is a good example of how a couple of citizens and grassroots efforts can effect change for safer roads in West Virginia. It all started when a motorcycle shop owner from Martinsburg, WV was stopped by police for being in violation of state law for having too many lights on his bike.
Biker and shop owner Bob Cunningham knows that visibility is a big concern, especially at night, and says that motorcyclists should be allowed to put extra lighting on their machines to increase their visibility.
After all, "I didn't see the motorcycle," is the most common excuse offered by vehicle operators after causing a collision with a biker on the road. So, it makes good safety sense to many to allow these motorcycle owners to increase their visibility with the hope of in reducing collisions and wrecks by the addition of additional lighting.
Bob Cunningham was able to gather over 1,000 signatures for a petition to support such legislation and enlisted the help of West Virginia State Delegate John Overington of Martinsburg to introduce a bill for amendment of current motorcycle lighting regulations.
Other steps that motorcyclists can take to help increase their visibility by improving the effectiveness of their existing lighting include:
•· Replacing tail light with a larger light
•· Purchase and install brighter LED lighting for headlamp
•· Raise the beam to the maximum allowed angle
•· Add reflective tape to motorcycle body, helmet, or riding gear
•· Slow down and stay in center of your lane. Riding too close to the shoulder can reduce other motorists ability to see you by causing your light to blend in with the street lights.
West Virginia law requires that if your motorcycle, motor-driven cycle or moped is equipped with a single-beam lamp or lamps, the lamp or lamps shall be so aimed that when the vehicle is loaded none of the high-intensity portion of light, at a distance of twenty-five feet ahead, shall project higher than the level of the center of the lamp from which it comes.
Keep it fun by keeping it safe, a public service safety message from the Robinette Legal Group, PLLC in Morgantown, West Virginia.
Source:
Final version of HB 2477: http://www.legis.state.wv.us/Bill_Status/bills_text.cfm?billdoc=HB2477%20ENR.htm&yr=2014&sesstype=RS&i=2477