Early Monday morning, a Morgantown Police Officer was transported to Ruby Memorial Hospital after a vehicle ran into his cruiser while he was stopped at a red light in Morgantown, WV at the corner of Patteson Drive and University Avenue.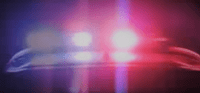 The accident happened around 3:15 a.m. when the driver of the second vehicle was speeding and tried to turn onto University Avenue and crashed head-on into the Morgantown Police cruiser.
The at-fault driver is being charged with DUI with injury as a result of the accident.  The identity of the officer has not been released.
The Morgantown Police Department is still investigating the collision.
Morgantown DUI Accidents
Did you know that an average 2 people arrested for DUI every night in Monongalia County?  The Morgantown City Police Chief reports the number of DUI arrests each is steadily increasing. "There's over 650 DUIs a year just between those two agencies. Roughly, what that means, is every single night 2 people are getting picked up for DUI in this county."
DUI arrests are often the result of crashes. When these crashes occur, the drivers must be held accountable to pay for the wrongs committed to their passengers, pedestrians, and property owners, whether the injured is a police officer, emergency responder, truck driver, or any other driver on the road.
Morgantown Personal Injury Lawyers
If you have been injured by a drunk, distracted, or impaired driver in Morgantown, contact our office today for help with your insurance claim.  We know how to find and maximize every form of available compensation for you.
Call today:  304.594.1800 or after hours, 304.216.6695.

Related Articles:
What is the Difference Between an Accident and a Collision?
Erin's Law to Force Hit-and-Run Drivers to Take Responsibility
Injured In A Car Accident In West Virginia? Know Your Legal Rights!