MORGANTOWN, W.Va., September 15, 2018 – Two West Virginia based charities, Hoagy's Heroes and Tabs for Tomorrow, worked diligently for a year to collect over 465 gallons of aluminum tabs.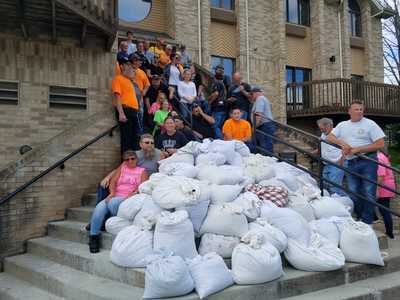 These tabs were delivered by motorcycle on Saturday, September 15, 2018, at 11:00 a.m. to the Ronald McDonald House of Morgantown.
Participating motorcycle riders from Florida, Ohio, Pennsylvania, West Virginia, Michigan, Massachusetts, and Canada helped with the delivery of the tabs.
Tabs for Tomorrow is an endeavor founded and led by 18-year-old Dexton McKinney of Wetzel County, W.V. Dexton has collected hundreds of gallons of aluminum tabs for charity this year and has spent hundreds of hours processing the tabs.
This year's donation to the Ronald McDonald House totaled 465 gallons of aluminum tabs, most of which were collected and processed by Dexton McKinney and his family.
To learn more about Dexton McKinney, see the Parkersburg News and Sentinel article: Teen Collects Tabs for Sick Children.
Hoagy's Heroes, led by founder Hoagy Carmichael, is a non-profit devoted to raising needed funds for children's charities in West Virginia. To date, Hoagy's Heroes has raised over $260,000 in pledges for the charities they support and have traveled over 1,170,000 miles.
These rides would not be possible without the magnificent support of volunteers. The all-volunteer Hoagy's Heroes staff, first and foremost Hoagy's wife Amy, spends countless hours planning and organizing each ride, while dozens of event-day volunteers provide essential support at the beginning and end of each ride.
In the past, these event-day volunteers have included veterans, the staff of local motorcycle dealerships, law enforcement officers, firefighters, members of civic organizations and spouses and friends of many participants in the rides.
Charities which have benefited from Hoagy's Heroes tireless dedication included A Special Wish Foundation, the Children of Fallen Soldiers Relief Fund, the Ronald McDonald House of Morgantown and the Augusta Levy Learning Center (for autistic children) in Wheeling, West Virginia.
According to Hoagy Carmichael, "The bikers of Hoagy's Heroes believe that the true heroes are the children and the families of those who have been diagnosed as having life-threatening disorders, those born with autism and ones who have lost a parent who was serving our country. Hoagy's Heroes is committed to raising funds to allow others to enjoy the wonderful things many of us take for granted."
Robinette Legal Group PLLC, a Morgantown, W.V., personal injury law firm hosted the event and provided a reception lunch for the volunteers.
Robinette Legal Group PLLC was founded in 1999 by Jeffery L. Robinette. The local Morgantown, West Virginia, law firm's focus is representing the seriously injured and their families for personal injury insurance claims, wrongful death claims and medical malpractice cases. The attorneys and staff at Robinette Legal Group love getting involved and giving back to their community.
Video from last year's event:
https://youtu.be/CLTd7S1L5Ns