The Robinette Legal Group, PLLC in Morgantown salutes the men and women in our military and veterans for the sacrifices they have made.
Our troops are working hard around the clock to defend our great country and keep freedom alive worldwide. Please keep them in your thoughts, prayers, and letters until they come home and as they adjust to civilian life after their return home.
For this, we salute them, and we say Thank You to those who have made the ultimate sacrifice for our freedom.
Jeff Robinette, Veteran, 82nd Airborne Division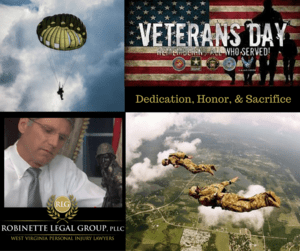 Jeff Robinette, the founder of Robinette Legal Group, is a decorated veteran officer of the U.S. Army's 82nd Airborne Division, serving as an artillery and psychological intelligence officer, jump master qualified.
In his legal practice, Robinette offers to his clients the same honor, dedication, and discipline. Robinette represents victims of motor vehicle accidents, catastrophic injuries, and other civil and commercial claims.
Whether fighting an insurance claim denial or taking a personal injury claim to trial to get the best settlement for a client, Robinette will use the strategic skills and discipline he gained to fight for the best result possible.
Related Articles:
Help for Injured Veterans Through Horse Therapy | Robinette Legal Group, PLLC
Concussion and Brain Injury Treatments Available in Morgantown | Robinette Legal Group, PLLC
New Hope for Traumatic Brain Injury (TBI) Patients | Robinette Legal Group, PLLC
Some Things to Consider About Veterans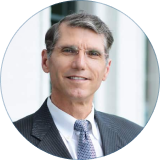 Jeffery Robinette was admitted to practice law in 1991 and is licensed in all levels of state and federal trial courts in West Virginia. Mr. Robinette is also licensed in all state and federal appeals courts in West Virginia and the United States Supreme Court. As a National Board Certified Trial Attorney who has handled hundreds of motor vehicle, injury, and construction defect claims and a leading author on insurance claims settlement issues and difficulties in West Virginia, Jeff Robinette is uniquely qualified to represent your best interest.