Is it really possible to end chronic homelessness in Morgantown? CCOH Executive Director John Sonnenday believes that it is.
Zero: 2016 is a national movement of 71 communities working to end veteran and chronic homelessness within the next two years. The Morgantown community project's stated goal is to eliminate chronic and veteran homelessness by the end of 2016 in Monongalia County. The purpose of the Coordinating Council on Homelessness (CCOH) is to coordinate the community-wide efforts to end long-term homelessness.
CCOH assists the service agencies which are providing homeless services to develop a common agenda of policies and practices based on the latest research on the most effective methods to end homelessness. It enlists all entities in the community – city and county governments, businesses, faith communities, healthcare providers, public safety officers, and private citizens – in providing resources and support for the community-wide efforts. The Council also advocates on behalf of persons experiencing homelessness and promotes community awareness and involvement in addressing homelessness.
Services for the Homeless in Morgantown WV
For many years, our community has had excellent services for persons experiencing homelessness. In spite of the best efforts of the service agencies, the total number of homeless persons was not going down, but up. Then in 2010, the Morgantown City Council and the Monongalia County Commission jointly created a Task Force on Homelessness to study the problem.
After three years of careful study and analysis, the Task Force published a Community-Wide Plan to Reduce Homelessness. One important recommendation was the creation of a permanent organization to implement the plan so that it did not just sit on a shelf but was actually put into practice.
Because CCOH had a community-wide plan, they were able to secure significant federal funding to help people with the initial expenses of moving into housing. And because they have shown progress, they have been rewarded with increased funding.
Why CCOH is Needed in Monongalia County
So, why is the Coordinating Council on Homelessness (CCOH) needed when there are already so many doing good for the needy in Morgantown? Though each of the services is good in itself, each tends to be siloed and not coordinated with each other and the federal and state programs designed to aid and assist those struggling among us.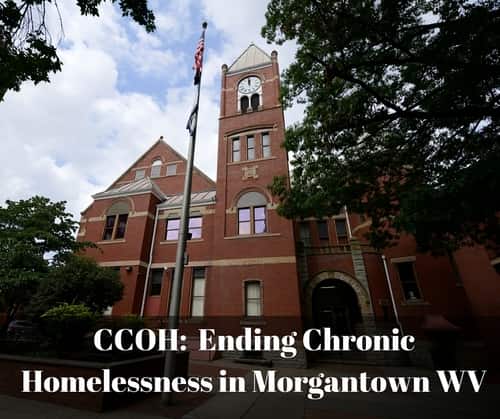 A stated goal of CCOH is to ensure that no one in our community stays homeless for more than thirty days. Through the coordination of efforts of the faith communities, service clubs, and government agencies, duplicity and gaps may be detected and best practices can be shared for the good of all. Also key to this work is coordination among all of the agencies providing homeless services.
Local support by businesses and individuals is needed to ensure that when government funds are eventually discontinued, the needs can still be met.
Another primary goal of CCOH is to integrate the newly-housed into the community through identifying real contributions those people can make and pairing them with activities and service to benefit others.
A unique aspect of CCOH is its focus on placing the hardest to place among us, including military veterans who have drifted into homelessness due to factors such as PTSD and addiction, and the chronically homeless.
The future success of the CCOH depends primarily on volunteers who will identify needs and channel the needy into the coordinated efforts of local and government programs already in place. Executive Director John Sonnenday directs a group of volunteers calledFriends in the Journeywho have been trained to encourage and help the newly-housed in life skills such as housekeeping, keeping medical appointments, and budget management. Those in the first group have finished their initial training, but many more volunteers are needed.
Questions People are Asking About Homeless Initiatives in Morgantown
A question many ask is "Won't the services available in Morgantown become a magnet for those individuals from other communities needing assistance?"
Morgantown is already a central hub for a fifty-mile radius for those needing help with food, housing, and medical care. Presently, 75% of the people being helped by the programs already in place in Monongalia county are from communities around North-central West Virginia and have a direct connection with West Virginia.
Through CCOH, donations will assist persons experiencing homelessness by supporting the work of the Council which has been pivotal in reducing the number of persons who are homeless. Donations also assist persons directly by paying for the costs of moving people into housing: deposit, first months rent, starting up utilities, furnishings. We support persons until they can become stabilized enough to be self-supporting.
"Should we stop helping our own because others may come? All of us are diminished when our most vulnerable citizens are at such risk." ~ John Sonnenday
What About the Mentally Ill and Chronically Addicted Homeless?
Another common question is "What about those who lack the capacity to ever become self-supporting?"
Nationwide the number of chronically homeless represent only 15-20% of the total homeless population; however, here in Morgantown, about 40% are chronically homeless. Therefore, they are the highest priority for housing.
There are programs that do not require any income. The Bartlett House's building on West Run Road has 52 beds in a variety of apartment and suite arrangements for people who are not in a position to be fully self-supporting. Most of those who lack the capacity to be self-supporting will qualify for Social Security Disability. If so, they will pay a small portion of their income toward their housing, never more than 30%. In the meantime, they can stay rent-free.
There is also the HUD Section 8 voucher program for low-income persons in which a large portion of an individual's rent is subsidized. And there are other housing units for very low-income individuals who pay only a small portion of their income for rent.
So, with all of these programs, no one in our community is disqualified on the basis of income. We are fortunate to have a number of options for them.
Housing the Homeless Could Decrease Total Costs
According to John Sonnenday, the city would save a lot of money if it built adequate housing for homeless people. That would significantly reduce the money the city currently spends on ambulance, police and shelter costs for the chronically homeless.
"Per person, it would save thousands of dollars a year when you compare the costs of them being out on the streets compared to paying for their housing," says Sonnenday.
"Giving the homeless permanent housing would also make it easier for them to seek treatment for alcohol or drug addiction. Many substance abusers who live in more rural parts of West Virginia come to Morgantown because it has a ready supply of cheap alcohol and drugs. At the same time, it also provides services and shelter for the homeless. But recovery from addiction can be much more difficult without permanent housing, according to officials who work with the homeless.
"Imagine trying to get sober on the street, at the same time you're worrying about not freezing to death, where you're going to sleep, are you going to get arrested," says Amanda Sisson, Assistant Director at West Virginia Coalition to end all Homelessness. "Once those fears are alleviated, it's much easier to get sober."
Homeless Military Veterans In West Virginia
In West Virginia, veterans make up a large chunk of the chronically homeless. Some veterans, who suffer from post-traumatic stress disorder, self-medicate themselves by drinking and doing drugs. This cycle of substance abuse eventually causes them to lose their jobs and housing.
Veterans are more susceptible to being homeless just because of the fact that they deal with a lot of issues like abuse and mental issues.
How Can I Help the Effort to End Homelessness in Morgantown?
Please consider how you can join the effort to end long-term homelessness in Morgantown through giving time, skills, and support for the Coordinated Council on Homelessness.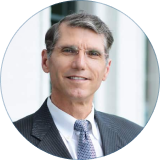 Jeffery Robinette was admitted to practice law in 1991 and is licensed in all levels of state and federal trial courts in West Virginia. Mr. Robinette is also licensed in all state and federal appeals courts in West Virginia and the United States Supreme Court. As a National Board Certified Trial Attorney who has handled hundreds of motor vehicle, injury, and construction defect claims and a leading author on insurance claims settlement issues and difficulties in West Virginia, Jeff Robinette is uniquely qualified to represent your best interest.