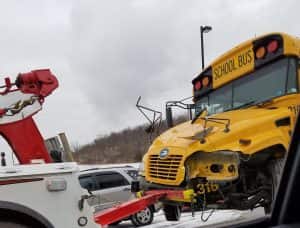 School bus drivers have one of the most stressful jobs in our communities.
They have been entrusted with the lives of our precious children to deliver them safely to school and back home again, and not always with the complete cooperation or obedience of the children on board.
Every time we have a two-hour delay announced asa response to ice, snow, and cold weather, it comes to mind that it would be terrifying to drive a school bus on ice and snow on our winding, hilly, and often untreated roads.
On the morning of January 25th, 2018, a school bus and SUV collision caused almost a two-hour backup and standstill of traffic on both Bakers Ridge Road and Point Marion Road near University High School near Morgantown in Monongalia County, West Virginia. (I happened to be in one of the vehicles during the long delay.)
Thankfully, only two children required medical care and were taken by ambulance for evaluation and treatment for what was reported as minor injuries by local news station WAJR.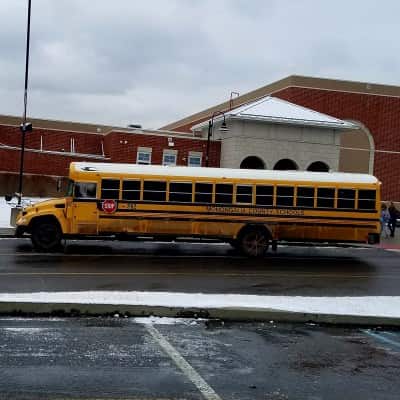 What you need to know about School Bus Safety in West Virginia
Give the school bus ample room to turn and maneuver, and do not travel too close to the rear of the bus or drive beside the bus for any longer than absolutely necessary in a position where you are less visible to the driver.
It is illegal to pass a school bus that is stopped to load or unload children.
Red flashing lights and an extended stop sign arm signals to motorists that the bus is stopped and children are getting on or off the bus.
All 50 states require that traffic in both directions stop on undivided roadways when students are entering or exiting a school bus.
In all cases, traffic behind the school bus (traveling in the same direction) must stop.
The area 10 feet around a school bus is where children are in the most danger of being hit. Stop your car far enough from the bus to allow children the necessary space to safely enter and exit the bus.
Be alert. Children are unpredictable. Children walking to or from their bus are usually very comfortable with their surroundings. This makes them more likely to take risks, ignore hazards or fail to look both ways when crossing the street.
Never pass a school bus on the right. It is illegal and could have tragic consequences.
If the roads are slippery and unsafe, please slow down and use extra care!
It is up to us to help to keep the kids safe – so please be careful!
Two transported after school bus accident in Monongalia County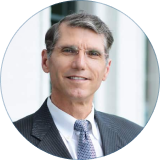 Jeffery Robinette was admitted to practice law in 1991 and is licensed in all levels of state and federal trial courts in West Virginia. Mr. Robinette is also licensed in all state and federal appeals courts in West Virginia and the United States Supreme Court. As a National Board Certified Trial Attorney who has handled hundreds of motor vehicle, injury, and construction defect claims and a leading author on insurance claims settlement issues and difficulties in West Virginia, Jeff Robinette is uniquely qualified to represent your best interest.